HCMC authorities have worked out a plan for building the Can Gio International Transshipment Port project and formally presented it to the prime minister for evaluation.
In the statement addressed to the prime minister, HCMC highlighted the port's intended role as a pivotal international transshipment hub for the region. The project aims to entice shipping lines and local and global logistics enterprises to engage in the worldwide transportation supply chain.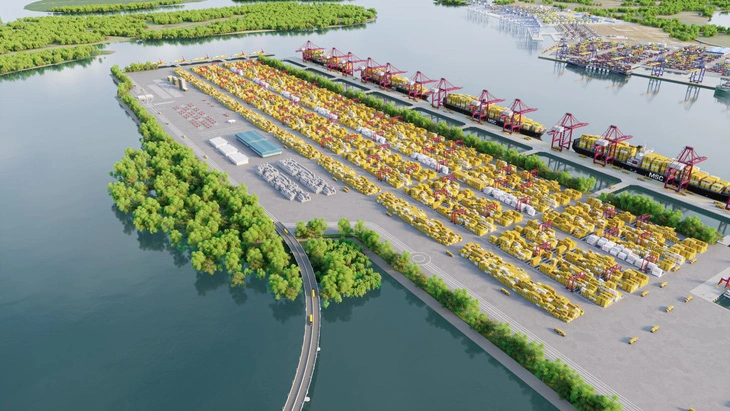 An artist's impression of the Can Gio International Transshipment Port
The Can Gio International Transshipment Port is projected to support other key ports in the southern region, including Cai Mep and Thi Vai ports.
Spanning an area of 571 hectares on Phu Loi Island, Thanh An Commune, Can Gio District, the port will feature a principal berth and a barge dock extending seven and two kilometers, respectively.
The endeavor will be executed across seven distinct phases. The inaugural phase is slated for completion by 2027, while the entire project envisions realization by 2045.
Upon completion, the Can Gio transshipment port will accommodate substantial container vessels with capacities of up to 24,000 TEUs. It will also handle transshipment vessels with dead weight tonnage spanning 10,000 to 65,000 tons alongside 8,000-ton barges.
Proposed for development by Vietnam Maritime Corporation (VIMC), Saigon Port Joint Stock Company, and Mediterranean Shipping Company (MSC), the project necessitates a total investment of VND129 trillion (approximately US$5.5 billion).
The project is anticipated to create 6,000 to 8,000 job opportunities for local residents. Additionally, the project is set to significantly bolster state revenue through an estimated VND34 to VND40 trillion annually, derived from taxes and fees.
"The participation of MSC, a leading global shipping line, lends assurance to the port's cargo sources and underscores the Can Gio International Transshipment Port's undeniable appeal," the statement noted.