Fuel prices, high inflation, and the Covid-19 pandemic… have affected VIMC's activities. However, the courage and ability to take advantage of the market opportunities of VIMC's Board of Directors have "steeried" the VIMC boat to overcome the waves, firmly moving forward.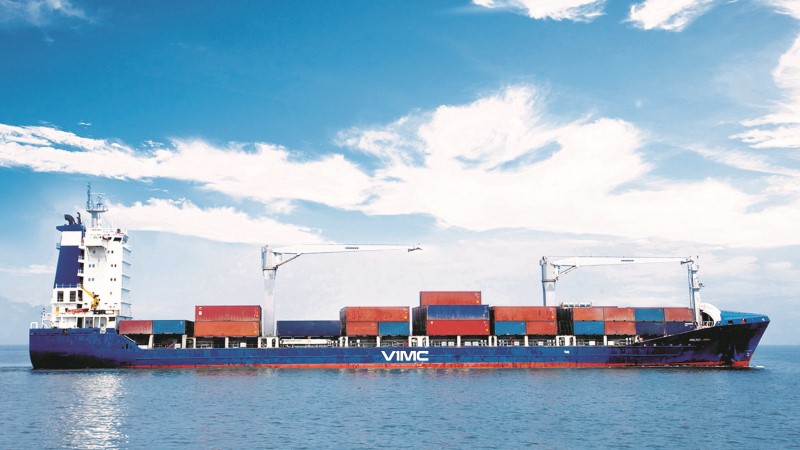 VIMC Diamond Ship
Over the past years, Viet Nam's maritime industry has had many innovations in institutions and policies, reforming administrative procedures, applying information technologies and marine infrastructure systems, and strengthening the connection of shipping methods. These factors effectively support trade activities, promote goods import and export, and facilitate economic development.
As a state-owned enterprise that plays a core and critical role in Viet Nam's maritime industry, VIMC operates in all three fields: shipping, seaports and marine services.
In seaport operations, VIMC's seaport system stretches across the country, located in key economic centers and important gateways for exporting goods, with 84 wharves with a total length of 13,882 m, accounting for more than 26% of entire docks and nearly 17% of full wharf lengths of Viet Nam. Seaports that have been modernized and synchronously invested can receive many types of ships, and load/unload various goods. This strength helps VIMC adapt well to the volatile business environment and meet the different needs of many customers. VIMC's deep-water ports are jointly invested with significant port operators worldwide, such as SSA, APMT, and PSA. Hence, the port infrastructure is modern, management capacity is good, and CMIT port can receive the largest container ship in Viet Nam (214,000 DWT). In 2021, VIMC's port system handled more than 126 million tons of cargo.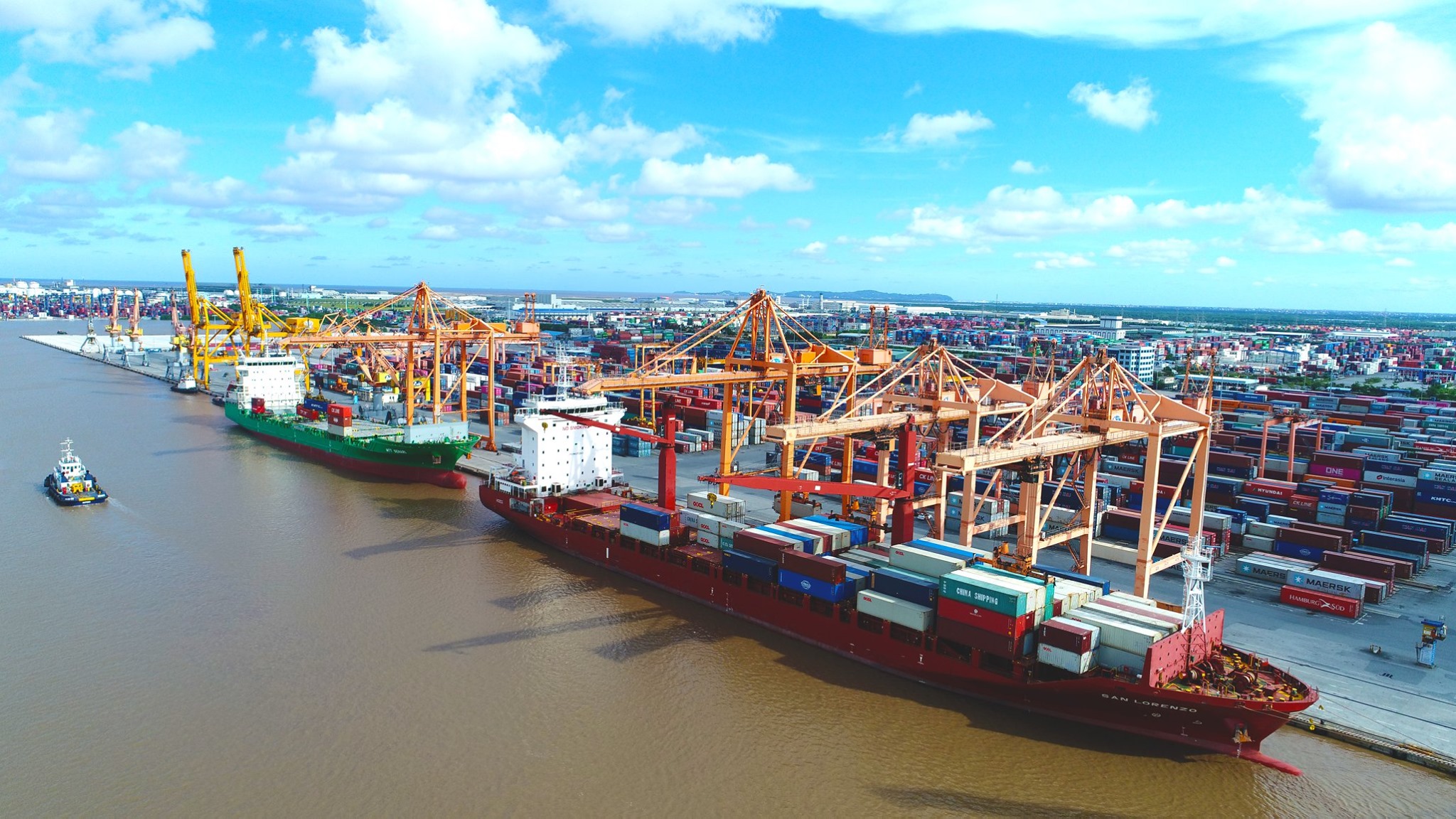 The Port of Hai Phong
In shipping, VIMC is a long tradition and leading brand in Viet Nam. VIMC has a fleet of 64 ships with a total tonnage of about 1.5 million tons, equivalent to 21% of Viet Nam's fleet. VIMC's shipping businesses have experience in the shipping industry. In addition, being a member of the Asian Ship Owners Association (FASA) has helped VIMC gain advantages in the regional market and other benefits only available to members of the Association. VIMC is cooperating and maintaining good and professional relationships with major ocean carriers worldwide such as ONE, MSC, ZIM, SITC, WANHAI, etc.
Container transport enterprises have domestic transport services and international feeders simultaneously, maintaining stability and reputation with customers. Also, in the first six months of the year, VIMC's port system has developed four new service routes at Hai Phong and Da Nang ports, SSIT joint venture company. VIMC has actively searched, connected and expanded new sea routes connecting Viet Nam and regions worldwide, including India. In May 2022, VIMC added a 1,000-TEUs container ship to transport goods to India from central Viet Nam's seaports. This is a direct connection between the two countries, helping to shorten the transportation time compared to the current routes that have to stop at transit points.
Most of VIMC's maritime service businesses have a commercial presence in different regions and long-term business experience, with good potential to participate in VIMC's integrated logistics supply chain ecosystem.
In the face of complicated and constantly fluctuating developments in the first months of the year due to many factors such as fuel prices, high inflation, the Covid-19 pandemic, etc., the ability to take advantage of market opportunities helped VIMC get positive business results, creating momentum for the completion of the whole year 2022 target. The expected revenue in 2022 is more than 12,500 billion dongs; the profit is more than 3,100 billion dongs.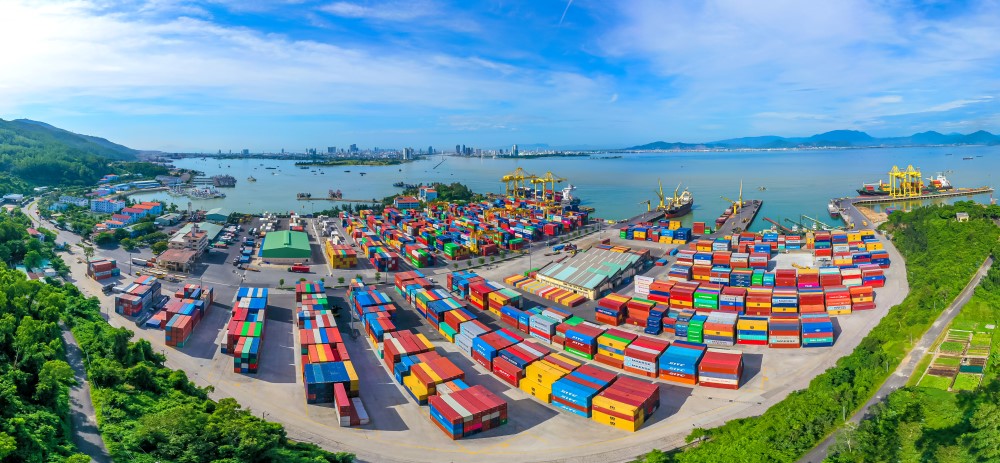 The Port of Da Nang
Three strategic issues for development
One of the significant policies of Resolution No. 36-NQ/TW dated October 22, 2018, of the Central Executive Committee is "Promoting the development of the shipping fleet with a reasonable structure, application of modern technology, improve service quality, meet the needs of the domestic transportation market, deeply participate in the transport supply chains, gradually increase, occupy the international market share." In addition, in the period to 2030, with a vision to 2045, our Party and State have the policy of "Planning, building and organizing the synchronous and effective exploitation of general seaports and international transshipment ports, specialized ports associated with support services" and "Building and completing logistics infrastructure and traffic routes, connecting seaports with domestic and international regions, regions and localities."
It can be seen that the above policy and policy is an opportunity for Vietnamese seaport and logistics enterprises such as VMIC to invest in developing seaport infrastructure, distribution centers, expanding fleets, etc., to catch up with development trends in the world fleet with modern technology, ensuring environmental conditions and standards according to international conventions to participate in the domestic transport supply chain deeply as well as dominate the shipping market share. International shipping, making Viet Nam a transshipment point for the world's goods by sea.
Based on the assessment of opportunities and challenges, VIMC has identified three core issues and strategies to focus on in the coming time: (i) Improving VIMC's competitiveness and business size, and at the same time, promoting the existing strengths for fast and sustainable growth and development; (ii) Innovating the growth model, promoting the increase of new growth engines to flexibly adapt to the volatile and challenging business environment; innovating corporate governance, approaching OECD governance principles (iii) Making effective use of opportunities from international integration, science, and technology development trends and industry development trends to innovate, improving labor productivity, developing in-depth to improve competitiveness, keeping up with the development trend of the world.
Based on these observations and core issues, VIMC has set out strategic development orientations for each business area: (i) In-depth development investment for existing seaports; focus and mobilize resources through joint ventures, investment cooperation with major partners to invest in building new deep-water seaports, international transshipment ports in key economic regions in the southern part. North and South (Lach Huyen international gateway port in Hai Phong, Can Gio international transshipment port in Ho Chi Minh City, Cluster of deep water ports at Cai Mep – Thi Vai area Ba Ria – Vung Tau …) to attract goods through Viet Nam's seaport system (ii) Investing to develop a fleet of specialized container ships, oversized cargo, with modern technical features, ensuring navigation on long sea routes, creating money development topic to become a Main Lines Operator – MLO; Investing in developing logistics infrastructure, large goods distribution centers (ICD) in key economic regions in all three areas of Viet Nam (iii) Strongly applying information technologies and digital transformation; developing logistics services integrating sea transport – seaports – marine services to provide package services for customers.
It can be seen that the market insight and strategic vision of the VIMC's Board of Directors have helped the "boat" of VMIC remain steadfastly moving forward, affirming its brand and bravery as a leading maritime enterprise in Viet Nam.