The country's shipping giant Vietnam Maritime Corporation (VIMC) plans to establish a new transportation company and divest its stake in three units.
On April 20, the VIMC held its 2023 AGM and approved a number of plans and targets, including stake divestment, capital contributions, and an increase in market share, among others.
Accordingly, in 2023, the company will divest Hai Au Shipping JSC (26.46 per cent), Sai Gon Maritime JSC (10.15 per cent), and Vietnam High-tech Transportation Co., Ltd. (56 per cent), with the total proceeds expected to be over VND43 billion ($1.86 million).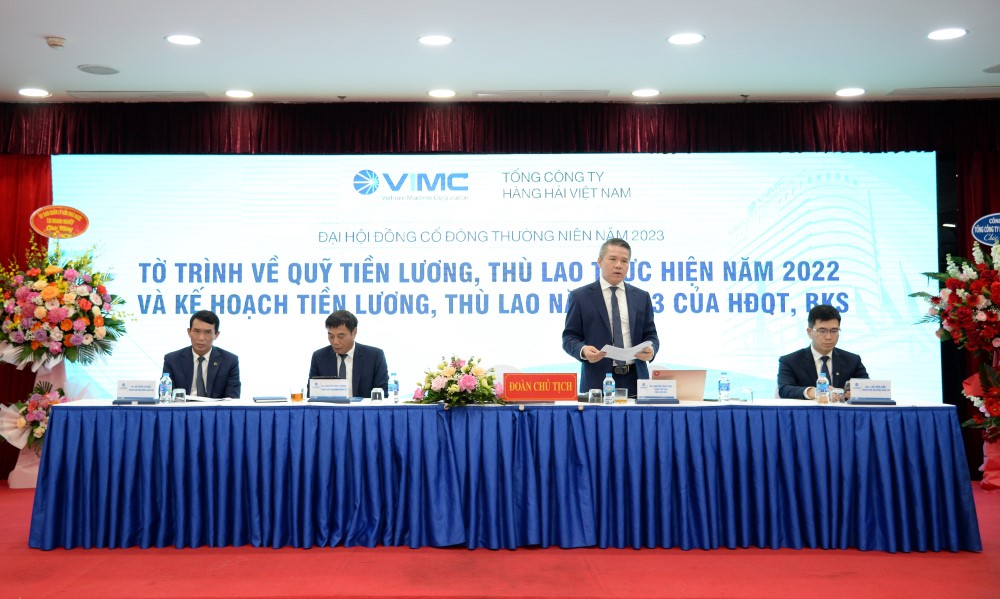 Nguyen Canh Tinh, CEO of VIMC, speaking about the company's business plans in 2023
In addition, the meeting also approved the plan on capital contributions to establish VIMC Container Transport JSC. It is estimated that the total value of the contribution will reach around VND1.23 trillion ($53.47 million). Of which, the capital at VIMC Dinh Vu, along with two container ships and empty containers, will make up VND1.04 trillion ($45.21 million).
Besides this, VIMC also plans to contribute about VND69 billion ($3 million) to Saigon Port, and about VND113 billion ($4.91 million) to Cai Mep Ha Port. At the same time, the company also intends to increase its capital in a number of businesses, such as Vinaship and the Vietnam Shipping Agency.
With these moves, the number of businesses with VIMC's contributed capital will decrease from 35 units to 27.
According to VIMC's CEO Nguyen Canh Tinh, 2023 is likely to be a very difficult year, there will be more challenges than opportunities. Therefore, making a profit is a good result.
"Increasing profits is not our top priority in 2023. There are still some goals that need to be achieved, such as expanding market share and increasing revenue outside our core activities," he noted.
Anticipating the difficulties in the global shipping market and reduced demand, in 2023 VIMC foresees an on-year fall of 18 per cent in the volume of shipping business to 17.7 million tonnes, mostly coming from such units as VIMC Shipping, Bisco, and Vinaship.
In the seaport business, the volume is expected to hit 134.7 million tonnes, up 9 per cent on-year. The increase will be mainly at major ports such as Haiphong, Quy Nhon, and the joint venture seaport complex.
The shareholders' meeting also approved the revenue and profit targets for this year. Specficially, it aims to make total revenue of VND13.35 trillion ($580.43 million), down about 13 per cent on-year, while its pre-tax profit is planned to decrease by 24 per cent on-year to VND2.33 trillion ($101.3 million).
VIMC plans to continue to increase external activities to offset revenue, focusing on three core business lines, namely shipping, seaport, and logistics.
For the shipping business line, VIMC plans to liquidate a total of 24 ships with a total tonnage of about 617,000, and invest in four container ships ranging from 1,700 to 2,200 TEUs and eight dry cargo ships with maximum loads of up to 60,000 tonnes.
VIMC's fleet is expected to have a total of 40 ships by 2025 with a total tonnage of about 1.2 million. Notably, the container fleet is expected to reach 200,000 tonnes (from 13,000 to 16,000 TEU), equivalent to 30 per cent of the nation's total.
For the seaport business, the company will continue to develop the port system for large vessels this year, while at the same time studying and investing in seaport infrastructure in new locations, upgrading and expanding investments in existing infrastructure, and increasing its capacity and competitiveness.
In the logistics business, the company is expected to cooperate with different partners to invest and develop inland container depots and distribution and logistics centres in many areas such as Haiphong, Hanoi, Danang, Quy Nhon, and Ho Chi Minh City.