As one of 19 groups and corporations under the Commission for the Management of State Capital at Enterprises, the Vietnam Maritime Corporation (VIMC) holds a leading position in the country's maritime industry. By adopting a series of solutions to achieve production and business targets in the first half of 2021, VIMC has achieved 56 percent of its annual revenue target and 135 percent of the pre-tax profit target. Amid the complicated development of the Covid-19 pandemic, VIMC has taken advantage of its strengths to transport goods for free from northern to southern provinces in support of the anti-pandemic fight.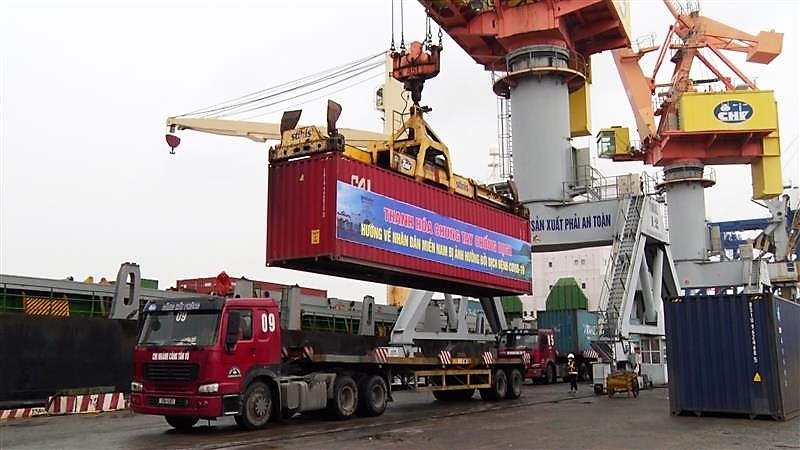 'Maritime bridge'
In recent days, more than 700 tonnes of goods donated by localities, organizations and businesses have been transported for free from Hai Phong Port in the north to residents of southern provinces and cities under VIMC's "Maritime Bridge" project.
On August 6, for example, the Tan Thuan branch of the Saigon Port Joint Stock Company received 22 containers with 430 tonnes of goods from the Vietnam Fatherland Front Committee of Thanh Hoa province to support southern provinces and cities in the fight against Covid-19.
The goods were shipped on the Bien Dong Navigator, which docked at Tan Thuan port, where the Tan Thuan branch provided free warehousing, loading and unloading and handed over to Asia Logistics and Trading Joint Stock Company. The goods were then transported by road to the provinces of Binh Duong, Dong Nai, Ba Ria-Vung Tau and Long An under the direction of the Thanh Hoa provincial Fatherland Front Committee.
Previously, on August 2, 22 containers of donated goods were also transported free of charge by the VIMC from Tan Vu port (Corporation of Hai Phong Port) to Tan Thuan port via VIMC's "Maritime Bridge".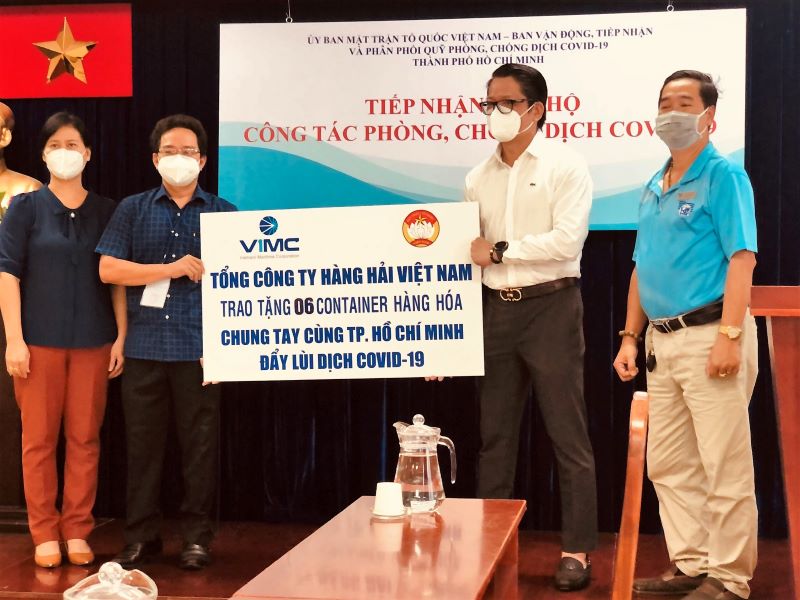 The "Maritime Bridge" for free goods transportation has contributed to a green sea lane under the direction of the Ministry of Transport promptly delivering goods to the southern provinces and cities, contributing to the efficiency of Covid-19 prevention, and restoring a new normal for citizens.
The project's creativity and flexibility in transporting goods to pandemic-hit areas is helping people in keeping with the Government's motto not to leave people hungry. Covid-19 has had severe consequences for Vietnamese people and businesses, highlighting the need and pro-activeness of big business. VIMC's efforts in implementing the "Maritime Bridge" reflects the leading role of Vietnam's top enterprise in the maritime industry and also the inherent spirit of solidarity that promises Vietnam will overcome the battle to develop a stronger economy.
---
The VIMC "Maritime Bridge" will continue to transport free of charge all essential goods, equipment, and supplies for the pandemic prevention of affected southern localities. Localities, organizations and businesses needing transportation, please contact the VIMC at hotline: 0249950289".
---